From Thunder Bay Bandwiki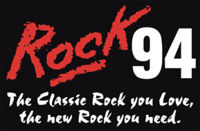 CJSD-FM is a Canadian radio station, broadcasting at 94.3 FM in Thunder Bay, Ontario. The station broadcasts an active rock format branded as Rock 94.
History
The station was launched in 1948 as CKPR-FM, an FM simulcast of CKPR. The station appears to have adopted its current callsign and launched distinct programming sometime between 1966 and 1984. The Canadian Communications Foundation's website currently states that the station's conversion to its current callsign occurred in 1992[1], although the CRTC has decisions in its database relating to a CJSD-FM in Thunder Bay dating as early as 1984 (the earliest date currently available from that site.)
The station hosts a one-hour radio show called Off the Grid on Tuesday nights at 10:00 pm. The programme plays a variety of alternative, underground and independent music not usually heard on Thunder Bay radio.
CJSD is heard across Lake Superior in the United States in Houghton and Keweenaw Counties in Michigan as well as the northeastern tip of Minnesota.
Related Stations
External Links
↑
CJSD-FM history at the Canadian Communications Foundation