From Thunder Bay Bandwiki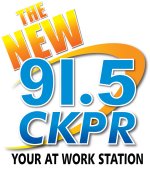 CKPR-FM is a radio station in Thunder Bay, Ontario, Canada. The station broadcasts an Adult Contemporary format, with a mix of hit music, at 91.5 FM.
History
The station was originally launched in Midland in 1927. It was purchased by the Dougall Motor Car Company in 1931, and moved to Fort William. The station originally aired at 890 AM, moving to 780 in 1933, 930 in 1935, 730 in 1938 and its present 580 in 1941. The station became an affiliate of the CBC's Trans-Canada Network in 1947.
In 1948, the station's owners launched an FM simulcast on CKPR-FM. In 1962, the owners also acquired CFPA-TV, the city's CBC Television affiliate, which then adopted the CKPR callsign as well.
In 2006, Dougall applied to change the station's frequency to 91.5 FM. This application was approved by the CRTC on February 2, 2007.[1] The transition occurred on June 4, 2007 at 12:00 PM ET and was simulcast on Thunder Bay Television.[2] The AM 580 signal then went to a repeating message advising listeners to tune to 91.5 FM. It's believed that CKPR 580 AM had left the air for good on August 3, 2007, however, the 580 AM signal was to leave the air by early September of that year.[3]
Currently, the station, still owned and operated by the Dougall family under the name Dougall Media, plays a mix of hits spanning from the 1970s up to today, and has a strong focus on news and local coverage of Thunder Bay and surrounding area.
Related Stations
External Links