From Thunder Bay Bandwiki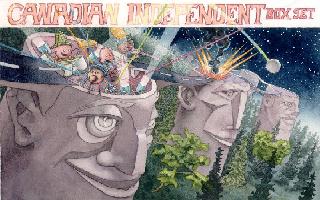 The Set contains 9 CD's (real CD's, not CDR's) a poster, booklet, and many stickers and artist information.
Catalog # MHR 010, Released Year 2000
Brand New, Mint Condition, Only 500 Sets Manufactured, Hand Numbered, Hand Assembled, All Excellent New Independent Music
Disc One
22 Tracks 73:00
The Dinks- "Ice Cream Headache"
The Special Guests- "Everybody Rock"
Plasticine- "Friend of a Friend"
Feisty- "Win You Over"
Star Collector- "Skyscraper"
Collider- "Closets"
Knacker- "Latitude"
Smack Attack- "Moonshine"
Arlibido- "Good Day for Anything"
Strange Bargain- "Tales from Marshmellow Land"
Sid Six- "Space Mobile"
Doug- "four eight 5-0"
Sin Tones- "Jesus had a Gibson"
Mold- "Agent Scully"
Thirsty- "Cookie Song"
Magnificent Octopus- "Anklebone"
Orion 321- "Bottom of the Sky"
Iyuhishi- "Every Place I've Been is Better Since I Left"
The Mercurymen- "Behemoth"
Umbrellaheads- "Hard Luck Story #5"
Darkest Of The Hillside Thickets- "Sounds of Tindalos"
Machtiver- "Thoughts Towards"
Disc Two
16 Trax 73:01
Ocean Machine- "Funeral"
Dr. Squish- "Devoid"
Morahambi- "El Mundo Muerte"
Smere- "Change"
Bull Mastif- "Overgrown"
Omega Ad- "Sands of Time"
Downshift- "Closes"
Trailer Park- "Versace's Child"
A Thousand Years- "Angels in the Sky"
Leather Messiah- "Spiral to Hell"
Co Existence- "Mind Mapping"
Shock Hazard- "Rats on the Highway"
Broomfiller- "Herb Eaverstank"
R.E.Flexxx- "Drop Dead"
Stumble- "Stumbling"
The Hellz Kitchen Show- "Transition"
Disc Three
23 Trax 72:37
Deamon- "End of Ages"
Volatile- "The Physical"
Mental Terrorizer- " "
Mourn- "The Physical"
Against All- " I Against All"
Ritual- "The Way it is"
Unborn- "Overstand"
Strain- "Here and Now"
Redrum- "Too Hot for Me"
Bald Vulture- "Life is all About"
Bloodwurm- "Oh Yeah"
Amused- "Born in the Body"
Jerry Can- "Rochester Sucks"
Into Eternity- "Speak of the Dead"
Tenacity- "Soul Fight"
The Loss- "Trust"
The Divine Invasion- "Train"
Peruke- "Like, Chill Dude"
The Koka Kola Hitmen- "Mafia"
The Red Eyed Tree Frogs- "So it Seems"
Peninsula- "Ladies and Gentlemen"
Revenge- "Late"
Disc Four
21 Tracks 68:55
Vor- "Movement #2"
8b- "Tiga (Sauna Mix)"
Soma Sonic- "First Wave"
Nanochrist- "I Robot"
Incognito- "Is It Good Enough"
Schizoid- "Avoid Eye Contact"
Nash The Slash- "Tension"
Slow Learner- "Firechild"
Schitz-I-Fernetic- "Nightmares in Latex"
Super 88- "Odyssey"
Shadmock- "Jesus Junkies"
Dwain Barrick- "Steph's Song"
Robert Hansen- "Go it Alone"
Ollyn Grey- "Black Widow"
E=MC2- "Money Money Money"
Castle Of Pain- "Dungeon of Doom"
Mad Matt- "Hey Apollo"
Judo Jive- "Grunt #3"
The 18th Hole- "Fore"
Puck- "Unsigned Hype"
Jaan- "Unplugged"
Disc Five
27 Trax 72:09
2 Pump Louie- "Poison Paradise"
Random Killing- "Johnny was a Punk"
Demockracy Crisis- "Criminalize the Poor"
Spazmz- "Damage"
Hell Caminos- "Fallin' Behind"
Dayglo Abortions- "Drink Beer Smoke Pot"
Bucket Truck- "Old Trunck Four"
Spotty Botty- "Crap"
Junto- "Don't Believe Everything You Read"
Wisecrack- "Fallout"
The Vapids- "Mikey was a Punk"
The Setbacks- "Buzzbomb to Ontario"
Grayline- "Scared to Care"
Bun- "Goodbye"
Chubb- "Snobs"
Potluck- "Fallen"
Unemployed- "Jack Coleman"
The Comeback- "Varendero to Havana and Back"
Romeo Retarded- "Dear Abby"
Fistfull- "American't"
I Can'T Remember- "Freedom"
The Kremlin- "This Night"
The Riptides- "Jeannie is a Junkie"
Thee Outcasts- "Death to the King"
Bikes- "25"
Torn Down Units- "Rock Out or Get Out"
The A Tubes- "Oh What a Tube"
Disc Six
25 Trax 73:28
Closet Monster- "I Have No Mouth And I Must Scream"
Fucthat- "Split the Scene"
Racer 10- "True"
Namesake- "What About That Guy"
Malchiks- "Jerry"
Complete- "A Simple Complaint"
The Retreads- "World War Three"
Supersift- "I Hate Punk Rock"
Sidewalk- "Missing in Action"
TWENTY2- "Moments of Sanity"
The Heartbroken- "Alaska"
Nfa- "Burlington"
Five Spot- "Five Spot"
Names Taken- "Walk Away"
Johnny Unite Us- "My Boss"
Poser- "Eye Tolled Ewe Sew"
Tripwyre- "Fat Aggression"
Headcramp- "Bike Thief"
Dns- "Idle Time"
Sector Seven- "You Never Know"
Racer- "Lift Off"
No Connection- "Another Way"
Lungbutter- "Track #5"
Wife Power- "Enzo's Song"
Cheapshot- "Forgotten"
Disc Seven
20 Trax 71:23
The Smalls- "What I Need To Carry On"
Short Notice- "Blame"
Station A- "Stealth Training"
Wrench In The Works- "Jenny"
Painting Daisies- "Church of Cosmetology"
The Myth- "Isaac"
Ani's Whisper- "Beauty"
Kathryn Rose- "Mint"
Plumm- "Pretty Face"
Suzanne Wilson- "Heroine"
Corb Lund Band- "Wine Soaked Preacher"
Sue De Nym- "False Messiahs"
A-Ok- "All Your Fantasies"
The Dreaming- "Numb"
Christopher Dunn- "Skylines"
The Yes Men- "T.V. Planet"
Bill Dawe- "Travelin"
Barzin H- "I'll Find Ways"
Wilton Said- ""
Sharpkid- ""
Disc Eight
16 Trax 73:18
After Dark- "Alive After Dark"
Edison Machine- "Sleeping with a Shotgun"
Redfish- "nbc"
The Honeymen- "New Funk"
The Mustangs- "Lonely One"
Jw Jones- "Frozen Solid"
Luke Leone- "New Day"
J Magyar- "I Need You"
Adrienne Pierce- "Small"
Outside The Lines- "Circle"
Emily Leger- "Under the Gun"
Head In The Clouds- "Living With A Mind"
Sarah Stefanson- "Angel"
Claudette Pinard- "A Mother's Rose"
Lesley Baker- "Lead the Way"
Wonitha- "You and I"
Disc Nine
21 Trax 74:36
Vito Alvaro- "Hard Days Gone"
Vann Delorey- "Elephant Song"
Kris Taylor- "Expect"
Aengus Finnan- "Lately"
Rick Ivanoff- "Abduction"
High Sheriff's Lady- "Smiling Behind Me"
Vertigo Joe- "Euphoria"
Paul Barnes- "Millennium"
Purple Dragon- "Broken Window"
Shelly Jacobson- "If It Doesn't Fit"
Lenore- "Rock and Roll"
Big Meteor- "Wild River"
Pop Cans- "The Nice Guy"
Jeff Nicholson- "Hockey"
Shoegazer- "Indian Summer"
Anne Minnery- "Watch the Little Girl Dance"
Let Er'Ride- "Full Moon or Empty Bottle"
Neil Layton- "My New Soul"
Streambabies- "Make Believe"
M.U.M.- "Jesse's Journey"