From Thunder Bay Bandwiki
Members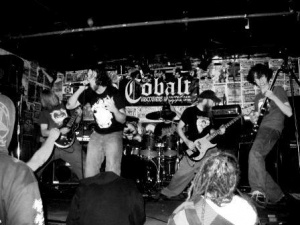 Biography
Faceless Hulk formed in a Thunder Bay, Ontario basement in 2003 as a three-piece consisting of Andy Middaugh (drums), James Laukka (bass) and Craig Kainulainen (guitar). Soon after, Travis Doggett (guitar) joined to complete the foundation of the band. Wanting to push for new ways to create distinctively heavy music, the four set out to seek a vocalist who would add new dimensions to the constant evolution of their sound. One fateful night at an open jam session in a local bar they joined forces with Ted Lee (vocals) in a spur of the moment jam that proved to be the launching ground for the band as a full unit. They set out to play aggressive metal without any preconceived notion of what they "should" be playing. With nothing but iron will and iron testes these five malcontents spent the next year and a half writing and playing shows to rabid audiences.
Faceless Hulk's debut album "Same Jerks, Different Shirts" was self-released in a small pressing of 400 copies in the spring of 2005 distinguishing themselves as a force in the local music scene. Faceless Hulk spent the next 2 years writing new material and playing live performances. Over the years Faceless Hulk has shared the stage with bands ranging from Cryptopsy and Cannibal Corpse to Death By Stereo and The Ripcordz. Fans of all styles of loud and aggressive music can appreciate the dynamic energy their live show projects.
Faceless Hulk entered Exit Music Studios from December 2006 to February 2007 to record their full-length debut album "Knowledgeable Ignorance". The album reflects a more focused sound displaying growth and depth in their song writing that will repeatedly knock you on your ass with 11 tracks to infect the cochlea. In the Summer of 2008 Faceless Hulk embarked on a west coast tour with long-time friends and local scene brethren Norris. Plans for a new EP to follow the tour are keeping these savages more than busy. Faceless Hulk has arrangements to tour with TERRORHORSE (ft. Rich LeBlanc of Speedway and Norris fame)for a national tour in May 2009. Consider yourself subjugated at the will of FACELESS HULK.
Faceless Hulk will be devestating the world
Competed in Achilles Last Stand 2003
Covered Clutch and Nirvana at local cover shows.
Has opened for Cannibal Corpse, Fuck the Facts, Origin, Kataklysm, Neuraxis, The End, and Cryptopsy
2000hate tour with Norris from Thunder bay to B.C and back
New E.P. in the works
Upcoming Tour with Terrorhorse in 2009.
Discography
Links