From Thunder Bay Bandwiki

Rock Truck
Members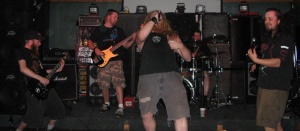 Former members:
Special Guest Members:
   Travis Doggett - Bass, Guitar

Biography
Rock Truck, built in 2005 , from the beginning was a true bar-band. The original line up of Richard Leblanc, Eric "the red", Andy Middaugh, Jimmy Laukka, and Sean Wood gathered at the local drinking hole known as The Apollo; Richard and Eric were bouncers and Andy, Jimmy, and Sean were regulars at the Apollo.
Rock Truck later went on to play War On The Shore 4, shortly after Richard left to pursue work and music in London. Rock Truck continued to ride on as a 4-piece.
The first EP - Drunk, super Drunk was recorded in Dr. Destructo's Lair and released at the Speedway Detectives 10th Anniversary Show during the summer of 2006. 50 units were made.
In late 2006 Rock Truck installed local metal legend Mike "gearhead" Tkaczyk.
After years of gigging, recording and partying - Booze Your Illusion Vol. 1 & 2 was recorded on the summer of 2009. In the winter of 2011/12 Full blown goob, a collection of Eric's songs from the post rico days, was put to digital format and released October 2011 online. On January 2012 three song Armageddon EP was released online.
Booze Your Illusion was mixed, mastered by Dave Angell and final production by rock truck was done at dinning room studios in fall of 2012. It was released as a double disc on November 17, 2012. 500 units were made.
The Band continues to play locally and plan to record a third album tentatively titled Rock Truck III. Still active in Thunder Bay providing opening support for bands traveling through town such as Priestess, Danko Jones, High On Fire, Papa Roach, Maximum RnR, The Great Sabbatini, Bison B.C., Barn Burner, Nebula, and the UK Subs.
"People don't want to think... and Rock Truck doesn't make them"
Songs
Fuel Schlitz Crack draught black out blues Slidey Bootleg case Slave to the groove Cocaine Lady Valium Village Clone Our day Smoke `em if you got `em Booze your illusion 04:04 Coffee date Loser head I don't want to think Rock you baby Crusades Kick the junk Fucko When Satan takes your life The good life RMH (no longer played)
Discography
The Albums can be heard at their Bandcamp page. Also can usually be purchased from them at live shows.
Drunk, Super Drunk EP http://rocktruck.bandcamp.com/album/drunk-super-drunk
Goob full blown http://rocktruck.bandcamp.com/album/goob-full-blown
Armageddon Ep http://rocktruck.bandcamp.com/album/armageddon-ep
Booze Your Illusion I&II http://rocktruck.bandcamp.com/album/booze-your-illusion-i-ii
Videos
Trivia
Links
http://www.facebook.com/pages/ROCK-TRUCK/10182210766 http://rocktruck.bandcamp.com/