From Thunder Bay Bandwiki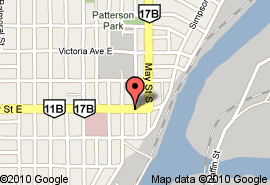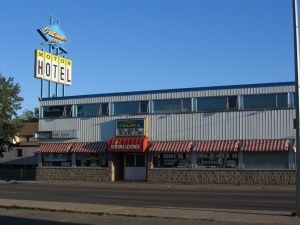 Address
301 Brodie St S
History
Originally a more legitimate hotel, the Inntowner was doing shows as the Uptown Motor Hotel as early as 1972.
Over the years, the following names were used:
Uptown Motor Hotel
Innplace
Inntowner Motor Hotel
Oak Lounge
Fireside Lounge
Esquire Lounge
Chandelier Dining Room
The bar closed in 2006, following its seventh Liquor License Act conviction and a 90 day suspension.
Fate
After closing, attempts were made to obtain a new liquor license and re-open under a different name. The building was struck by a drunk driver in August of 2008, with one wall being caved in. Trouble continued with the upstairs residents, leading to a double stabbing and 2010's first homicide. Eventually, the City claimed the building for unpaid taxes, evicted the 12 permanent residents and up to 16 couch-surfers, and declared that it would be torn down by December to become a parking lot. Ironically, the parking lot is to serve the new District of Thunder Bay Social Services Administrative Board, which provided services for the residents, most of whom moved on to Shelter House. The building was finally torn down in late October / early November of 2010.
Commentary
It's a dive now....but it definitely rocked in the 70's and 80's and some of the 90's.
Closed in 2006...this is what happens when you let idiots run bars...!!!
It is presently a very popular "Crack House".  Cheers!

Ads