From Thunder Bay Bandwiki
 

Line 9:
Line 9:
 
 
 

==Bands==

 

==Bands==

−

 
−

Current projects (2012):

 
−

* Currently playing drums for the Fkn Douchebags (2010-...),

 
−

* Playing guitar and singing for [[Broke Til Payday]],

 
−

* writing and recording as much solo original music as possible.

 
 
 
 

Has played with:

 

Has played with:
---
Latest revision as of 02:09, 13 September 2021
Instruments
Instruments played: Ibanez Iceman ICX-220 (black), Handbuilt strat copy (black) from various Fender and other parts. Ovation Pinnacle (cherry burst) acoustic, Ovation Legend, Peavey bass (blue-ish), Valencia nylon-string acoustic, Washburn camo electric. Amps: Peavey VK100/Kustom 4x12 (guitar) and Yamaha B100 (bass).
Bands
Has played with:
Other various part-time projects of the past:
...others?...
My biggest claim to fame is playing guitar at one show for Bukkake_Cannon. Best band ever.
This is kinda cool: [| Category:Bands_That_Dr._Destructo_Has_Played_In]
Biography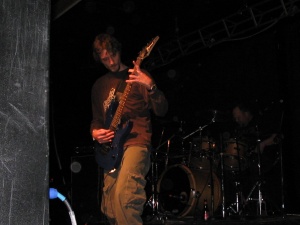 Mastermind behind http://www.revolutionmusic.net and http://www.baycore.net
Has also produced beats and tracks for local hip hop artist Webster Death and has recorded various local bands.
Had a lot of fun opening for bands like the Dayglo Abortions, The Casualties, Dead City, Faceless Hulk, Speedway Detectives, Arsenik, The Rots, The Clorox Girls, ROCK TRUCK, The Observers, Fuck the Facts, Throes of Sorrow, Life Against Death, Exhumed, The Georgous, Cerastine Order, BA Johnson, Despised Icon, UK Subs, Ab Irato, The Ripcords, High Five Drive, The Taberfucks, Azriel's Curse, Vicious Cycle, Self Rule, Red Blanket, Mass Grave, Defect Defect, The Real Deal, Trigger Effect, Arkata, Subhumans, The Way Back, The End, Tugnut and all of the countless other crazy bands, way too many to list here.
Links
User Page