From Thunder Bay Bandwiki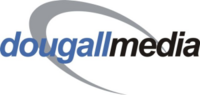 Dougall Media is a Canadian media company, which has several television, radio and publishing holdings in Northwestern Ontario.
Television
Thunder Bay Television is the name under which the two television affiliates in Thunder Bay, Ontario, Canada operate: CKPR, a CBC affiliate, and CHFD, a CTV affiliate. It is what is known as a twinstick operation, and is in fact the sole remaining locally-owned twinstick anywhere in English Canada.
As the affiliate of two networks, Thunder Bay Television airs programs from both CBC and CTV on their respective stations. The stations also purchase local rights to some programming aired on Global elsewhere in Canada, as that network does not broadcast in Thunder Bay. It also produces and broadcasts local news and current affairs programs and specials, such as Thunder Bay Idol and live coverage of the Lakehead Thunderwolves hockey team.
Branding
Thunder Bay Television usually uses the on-air branding scheme of Thunder Bay Television and then the name of the network to which the channel is affiliated, except in cases when the channel is airing programming from the network to which it is not affiliated. For example, CKPR-TV is normally branded as Thunder Bay Television - CBC, however, while airing non-CBC programming, such as Survivor or TB News, it is branded as Thunder Bay Television - CKPR. CHFD is normally branded as Thunder Bay Television - CTV except when airing programming from Global or locally produced programs, when it uses the branding Thunder Bay Television - CHFD.
Radio
Dougall Media operates CKPR and CJSD in Thunder Bay, as well as CFNO in Marathon.
Print
Dougall Media publishes a free weekly community newspaper, Thunder Bay's Source, which is delivered to 48,000 households in Thunder Bay each Friday. The paper covers local news, including city council, education, health care and the local political scene, as well as weekly entertainment and sports features. It also hosts a selection of local columnists, including outdoor writer Mick Bohonis and former CBC Radio personality Fred Jones.
It was formerly known as Thunder Bay Post, a name that was discontinued in October 2003. Prior to that it was known as Lakehead Living.
The paper's editorial staff also contributes to the news website tbnewswatch.com, which also has material contributed from the company's radio and television newsrooms.
Related Stations
External links